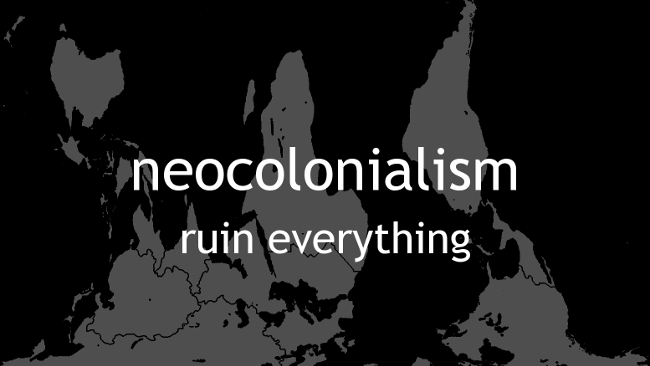 Neocolonialism
A downloadable game for Windows and Linux
Ruin everything.
You are a banker. You want to extract as much wealth from the world as possible--or, at least, more than everyone else. You will manipulate the global economy in order to siphon money into your secret Swiss bank account. Whoever has the most Swiss money in 12 turns wins the game.

Play solo against the AI or multiplayer against people who will imminently cease to be your friends.

Buy votes.
Unlike most strategy games, you will never have access to armies and never directly control territory. Instead, you will spread your influence throughout the globe by purchasing votes in parliament, or selling your votes to incite a military coup. You always share power with your rivals, waiting for the moment when you can backstab them.

Make free trade agreements.
Re-route industrial wealth throughout the world, from Mines to Factories via exploitative trade agreements. Remember: your goal is to make a profit, NOT to improve the world.

Manipulate the IMF.
Control the International Monetary Fund to force policy decisions without a regional parliament's approval. Basically, screw over your opponents without them being able to do a thing about it.

The map is upside-down
Because why not.
Purchase
In order to download this game you must purchase it at or above the minimum price of $3.99 USD. You will get access to the following files: